About Us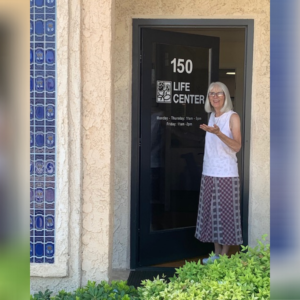 Who we are
The La Habra Life Center is a faith-based, non-profit community organization with a mission to help families deal successfully with the stress and uncertainty of unplanned pregnancy.
We offer free pregnancy tests and free ultrasounds, confidential consultation, critical, life-changing education about the science, emotions, and realities of pregnancy.  
We provide material support such as diapers, clothing, strollers, cribs, and more, so mothers and their families can welcome their gift of a child with joy.  
We assist many who have changed their mind after taking the abortion pill by providing access to abortion pill reversal.  
Where we come from
Close to 40 years ago a life-line to mothers and fathers dealing with unplanned pregnancy opened up under the vision of Mecki Grothues.  Mecki, a German national, and her husband, Karl, met by providence when Karl, as an American Soldier, returned to visit his family's German origins where Mecki happened to live.  The destined couple married and came to America where Karl pursued a successful career in engineering.  Soon after, Mecki, educated in pharmaceuticals, began to develop her passion to "stop the American holocaust!"  
In fact, it was when people asked Mecki, a newcomer to this nation, "why didn't your parents stop the German Holocaust?" that she felt convicted.  A new mommy, herself, she wanted her own children to never be asked that same question, "Why didn't your parents stop the holocaust, the nationwide killing of babies in the womb?"
Motivated by that salient comment, and juxtaposed to her "beautiful, perfect new child," Mecki got busy.  She first developed a life-line for mothers who needed help during an unplanned pregnancy.  Soon she created a Life-Center for sharing material needs and, soon after, began offering free pregnancy tests and heart-felt, scientifically based, pregnancy consultation.  
At some point you may want to ask Mecki to share the many compelling stories of women and their families whose lives were changed over these 40 years of caring and support.  We also recommend you visit our blog for stories of today's real-to-life experiences made possible through the Center.
Who we are today
Today we have added women's medical services including free ultrasounds during the first trimester of pregnancy.  We occupy a beautiful medical clinic where we service clients from La Habra, Brea, Buena Park, Whittier, Anaheim, Rowland Heights, Fullerton, Yorba Linda, and La Mirada.  In fact, our clients come from as far north and west as Los Angeles, San Gabriel Valley, and the West Side, to the southern counties of San Bernardino and more.   Our services are staged for growth.  As medical staff is added, the number of clients we serve grows in kind.  
Clients first receive indisputable facts about the emotional, spiritual, and health impacts on pregnancy from our trained consultants.  Our medical staff is well equipped to follow that up with enlightening information from the perspective of hard scientific fact.   With an image of their child, emotional and material support, and new, critically important knowledge clients are fully equipped to make a decision for their child, themselves, and their families they can live with for the rest of their lives.